This communication is intended to demystify fake news circulating in social media platforms purporting that the University of Venda (UNIVEN) has confirmed another case of Covid-19 Coronavirus (see attached post extracted from social media). 
The University Management would like to dismiss this misleading information. We would like to make it very explicit that to date, there is no single case of coronavirus ever reported at the University of Venda. We reiterate that it is NOT TRUE that there is such a case at UNIVEN.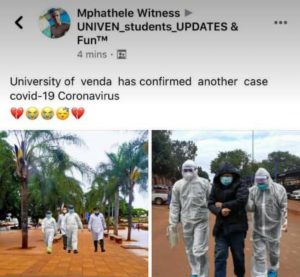 As per our communique of Tuesday 25 February 2020, the University Management continues to encourage Members of the University Community(staff and students) who are experiencing the symptoms of Coronavirus to visit the Campus Clinic for screening. 
 Kind regards, 
______________________ 
Dr Takalani Dzaga-APR 
Director Communications and Marketing 
University of Venda 
P/bag x 5050 
Thohoyandou 
0950 
Tel: 015 9628670 
06 March 2020