The University of Venda staff and students are anxious to get back to campus to continue with normal operations, but to curb the spread of coronavirus, and for the safety of staff and students, the University Management has decided to adopt a phased approach for the return of both staff and students. Although there is much uncertainty about when all staff and students will return to campus, the University Vice-Chancellor and Principal, Dr Bernard Nthambeleni continues to encourage all staff to continue doing their best in performing their respective roles including continuing with remote teaching to ensure that students who are yet to return to campus are not left behind.
The first cohort of students who are in their final year of study in the School of Health Sciences returned to campus from 01 June 2020. The second cohort of students who are in their final year of study in all schools, Post Graduate students and all students with disabilities are returning to campus in a staggered manner effective 22 June 2020. The University will only allow selected final year and Post Graduate students, particularly those in programmes which require access to laboratories, to return to campus during alert level 3. The process of identifying students who are eligible to return to campus is being coordinated at school's level. This implies that respective schools will directly communicate with students and accordingly make arrangements for their permits to travel back to campus. We would like to make it explicit that no student will be allowed access to campus without having produced an authentic invitation from the school. Although the Minister has announced that during alert level 3 of lockdown, institutions of higher learning should allow the return of 33% of student population, UNIVEN will only allow the return of a few students that it can manage and in accordance with available infrastructure. This is also intended to circumvent the spread of coronavirus.
All staff and students returning to campus will be subjected to regular screening process. We urge all those who are returning to campus to adhere to the University of Venda COVID -19 rules and regulations. It is therefore imperative for everyone returning to campus to familiarise themselves with COVID-19 protocols, rules and regulations. The number of students expected to return to campus, approved by the Executive Management is attached herewith.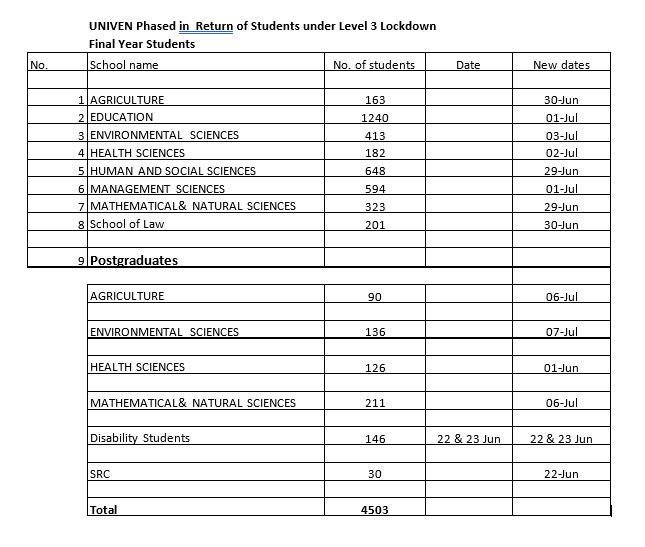 Kind regards,
Dr Takalani Dzaga – APR
Director Communications and Marketing
P/bag x 5050
Thohoyandou
0950
Tel : 015 9628670, Fax : 086 652 3003
Mobile : 064 828 9251 or 082 745 3090
25 June 2020