Sport and Recreation
University of Venda Student Affairs
Mr. M.P Thaba
Coordinator: Sport and Recreation
Office No: 17, second floor, New student Centre
Tel: 015 962 8658
Email: Patrick.thaba@univen.ac.za
Dr. N.P Mugwedi
Sport Administrator: Sport and Recreation unit
Office No: 16, second floor, New student Centre
Tel: 015 962 9234
Email: Ndiafhi.mugwedi@univen.ac.za
About Sport and Recreation Unit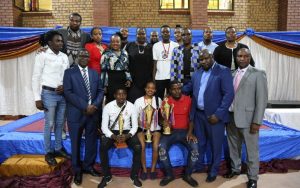 The Sport and Recreation Unit offers a range of Sport, Recreation, Arts and Cultural programmes, events and activities in support of student's academic success. These opportunities enhance student life at the university, by giving a sense of belonging through building networks for interaction, formulation of meaningful friendship and relationships with peers outside of the academic environment.
The provision of sporting codes is primarily for recreational purposes, but students who show excellence in competitive sporting codes are supported to transcend to the next levels of competitive environment of sports, arts and culture competitions.
Univen Sport and Recreation Unit has categorized the sport and recreational programmes as follows:
High performance

(Participating in USSA tournaments & selected leagues)

Competitive

(participating in leagues and tournaments)

Recreation

NB. (Any sport can be played at recreational level)

Arts & Culture groups

(Participating in national arts festivals, national & international debating competition)

·      Badminton

·      Basketball

·      Cricket

·      Football

·      Netball

·      Volleyball

·      Athletics

·      Body building

·      Chess

·      Dance sport

·      Handball

·      Karate

·      Rugby

·      Tennis

·      Goalball ( For individual with disability)

·      Univen Soccer league

·      Swimming

·      Handball

·      E-Sport

( Video games)

·      Aerobics

·      Residence league

( football & Netball)

·

·      Drama

·      Cultural dances

·      Electro-general

( modern dance)

·      Debate Fraternity

·      Beauty pageant

·      Gumboots dance
How to join Univen Sporting Codes
Interested students can join our sporting codes by registering their names in our Sport and Recreation Offices or by sending an email to: lizeka.miza@univen.ac.za indicating their sporting code of interest.
Sport and Recreation News