Department of Plant and Soil Sciences
Faculty of Science, Engineering and Agriculture
Department of Plant Production
The department of Plant Production offers undergraduate and postgraduate training in agronomy through teaching, research and community engagement that is geared towards sustainable agriculture and rural development in Southern Africa.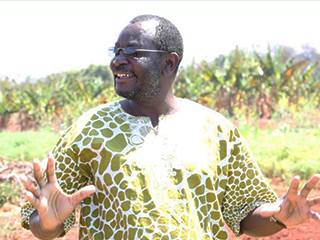 Prof JBO Ogola
Head of Department
Qualifications:
BSc(Hons)(Nairobi), MSc(Nairobi), PhD(Reading)
Tel: +27 15 962 9005
Email: ochanda.ogola@univen.ac.za
Programmes
The Department of Plant Production at the University of Venda offers an undergraduate programme I.e. BSc Plant Production which covers all aspects of crop production including the agronomy of crops, physiology of crop plants, plant genetics and crop protection. MSC and PhD programmes are also offered in the department with specialization in the aforementioned disciplines.
Modules
CODE AND NAME OF MODULE
AGR 1631 : Agriculture and Humankind
AGR 2531 : Introduction to plant production
AGR 3541 : Principles & application of plant production
AGR 3641 : Introductory plant breeding and seed production
AGR 3631: Dryland farming technology
AGR 4532: Management of natural and cultivated pastures
AGR 4531: Agronomy of selected commercial crops
AGR 4631: Agronomy of selected oil seed, fibre & cereal crops
AGR 4533: Bio-energy crops: Agronomy and post harvest processing
AGR 4632: Agronomy of selected field crops
AGR 4081: Project and seminar presentation
AGR 5531: Agronomy of cereal crops
AGR 5631: Agronomy of legumes and tuber crops
PPR 2541/3541: Introduction to plant protection
PPR 3631: Agricultural entomology
PPR 3641: Weed science
PPR 3542/4541: Plant pathology
PPR 5621: Weed science
PPR 5632: Disease and insect pest control
PPR 5632: Research project and mini dissertation
AGR 6531: Special topics in crop production
AGR 6542: Special topics in plant breeding
AGR 6631: Crop production systems
AGR 6642: Advances in applied crop physiology
PPR 6541: Advanced plant protection
AGR 6099: Dissertation
AGR 7099: Thesis
Staff
The following is a list of staff members in the Department of Plant Production
Name: Ms Thifhelimbilu Gloria Kutama
Designation: Cao Experimental Farm
Qualification: NAT (PRETORIA TECHNIKON), BTECH (UNIVERSITY OF SOUTH AFRICA)
Telephone: 0159628848
Email: thifheli.kutama@univen.ac.za
Office: AGRICULTURE - EXPER. FARMING Building, Office Number , Floor Number
---
Name: Mrs Tshifhiwa Hilda Mahuwa
Designation: Service Staff Farming
Qualification: GRD 5 (VHEMBE FET COLLEGE)
Telephone: 0159628274
Email: thifheli.kutama@univen.ac.za
Office: AGRICULTURE - EXPER. FARMING Building, Office Number , Floor Number
---
Name: Mr Mmbengeni Inocent Tshikovhi
Designation: Service Staff Farming
Qualification: N6 (VHEMBE FET COLLEGE)
Telephone: 0159629353
Email: innocent.tshikovhi@univen.ac.za
Office: AGRICULTURE - EXPER. FARMING Building, Office Number , Floor Number
---
Name: Mr Thivhulane Sidney Mafadza
Designation: Service Staff Farming
Qualification:
Telephone: 0159628649
Email: elelwani@univen.ac.za
Office: AGRICULTURE - EXPER. FARMING Building, Office Number , Floor Number
---
Name: Mr Mulimisi Joseph Mukwevho
Designation: Service Staff (Farming)
Qualification: GRD 2 (VHEMBE FET COLLEGE)
Telephone: 0159628649
Email: linda.kone@univen.ac.za
Office: AGRICULTURE - EXPER. FARMING Building, Office Number , Floor Number
---
Name: Mr Alilali Deriek Maphiswana
Designation: Labourer Farming
Qualification: GRD 10 (VHEMBE FET COLLEGE), N2 (GREENSIDE DESIGN CENTRE COLLEGE)
Telephone: 0159628649
Email: linda.kone@univen.ac.za
Office: AGRICULTURE - EXPER. FARMING Building, Office Number , Floor Number
---
Name: Mrs Azwililelwi Joyce Themeli
Designation: Labourer Farming
Qualification: GRD 9 (VHEMBE FET COLLEGE)
Telephone: 0159628649
Email: thifheli.kutama@univen.ac.za
Office: AGRICULTURE - EXPER. FARMING Building, Office Number , Floor Number
---
Name: Mr Azwiili Elias Luvhengo
Designation: Tractor Driver
Qualification: GRD 8 (VHEMBE FET COLLEGE)
Telephone: 0159628649
Email: thifheli.kutama@univen.ac.za
Office: AGRICULTURE - EXPER. FARMING Building, Office Number , Floor Number
---
Name: Miss Terry Moraka Leboho
Designation: Technician
Qualification: BAGRIC (UNIVERSITY OF VENDA), BSHONA (UNIVERSITY OF VENDA)
Telephone: 0159628000
Email: terry.leboho@univen.ac.za
Office: AGRICULTURE BUILDING NORTHWEST Building, Office Number , Floor Number
---
Name: M1ss Tsakani Maria Maphosa
Designation: Junior Lecturer
Qualification: BSCAGR (UNIVERSITY OF LIMPOPO), MSC (UNIVERSITY OF LIMPOPO)
Telephone: 0159608000
Email: maria.maphosa@univen.ac.za
Office: AGRICULTURE BUILDING NORTHEAST Building, Office Number , Floor Number
---
Name: Prof Eastonce Tendayi Gwata
Designation: Senior Lecturer/Lecturer
Qualification: PHD (UNIVERSITY OF SCIENCE AND TECHNOLOGY)
Telephone: 0159628000
Email: Eastonce.Gwata@univen.ac.za
Office: AGRICULTURE BUILDING NORTHEAST Building, Office Number , Floor Number
---
Name: Prof John Bob Ochanda Ogola
Designation: Professor
Qualification: BSC (FOREIGN PSE INSTITUTIONS), MSC (FOREIGN PSE INSTITUTIONS), PHD (FOREIGN PSE INSTITUTIONS)
Telephone: 0159628000
Email: ochanda.ogola@univen.ac.za
Office: SCHOOL OF AGRIC - ADMIN BLOCK Building, Office Number , Floor Number
---
The following is a list of staff members in the Department of Soil Science:
Name: Dr Jestinos Mzezewa
Designation: Lecturer
Qualification: MSC (FOREIGN PSE INSTITUTIONS)
Telephone: 0159628431
Email: jestinos.mzezewa@univen.ac.za
Office: AGRICULTURE BUILDING SOUTH Building, Office Number , Floor Number
---
Name: Mr Humbulani Patrick Nemakundani
Designation: Professor
Qualification: BSCAGR (UNIVERSITY OF THE NORTH), BSCHON (UNIVERSITY OF PRETORIA), MINSTA (UNIVERSITY OF ORANGE FREE STATE)
Telephone: 0159628624
Email: humbulani.nemakundani@univen.ac.za
Office: AGRICULTURE BUILDING NORTHEAST Building, Office Number , Floor Number
---
Name: Prof Jude Julius Owuor Odhiambo
Designation: Senior Lecturer
Qualification: BSCHON (FOREIGN PSE INSTITUTIONS), MSC (FOREIGN PSE INSTITUTIONS), PHD (FOREIGN PSE INSTITUTIONS)
Telephone: 0159628431
Email: jude.odhiambo@univen.ac.za
Office: SCHOOL OF AGRIC - ADMIN BLOCK Building, Office Number , Floor Number
---
Name: Miss Siphiwe Gloria Lusiba
Designation: Lecturer Ngap
Qualification: BAGRIC (UNIVERSITY OF LIMPOPO), BSCAGR (UNIVERSITY OF VENDA), MINSTA (University of Venda Production)
Telephone: 0159628000
Email: siphiwe.lusiba@univen.ac.za
Office: SCHOOL OF AGRIC - ADMIN BLOCK Building, Office Number , Floor Number
---